Success at Redbridge Jobs Fair and Cost of Living Event
15 people from Redbridge got job offers on the day and many more got helpful expert advice.
On Thursday 19th January 2023, we joined up with partners in Redbridge to host a jobs fair and cost of living event to help local residents find employment and understand the support available to them to help with cost-of-living increases.
Over 160 residents, including those on our Local London Works, Work and Health Programme, JETS (Job Entry Targeted Support), and people registered with Jobcentre Plus, Restart or Work Redbridge (part of Redbridge Council) attended sessions with employers to hear about roles available currently and learn tips for applying in the future.
With pre-event and on-the-day interview coaching, CV writing and support, many of the candidates came ready to impress.
Fifteen residents who attended the event looking for work in the morning, had firm job offers by lunchtime. A further 53 job seekers from the borough showed great potential and were referred for second interviews or self-referred to get specialist training to help them secure roles in East London.
The cost-of-living drop-in was equally successful. Many residents came to the event looking for information about support available to help with cost-of-living. With queues forming before the advertised start of the event, Redbridge Council services and partners were kept busy providing advice until past the official event close.
---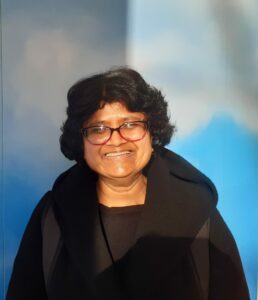 Redbridge resident, Jananee was offered her dream job on the day. She said "I'm so happy, I've just been offered a job! I thought, I might have interview-phobia but today it was just so easy talking to Kingdom Enforcement about the jobs they had. I can't thank Surinder and other staff at JCP Redbridge enough for helping me become job-ready. They have shown empathy when went through a bereavement and provided tremendous support when I returned to my job search. Surinder's advice, guidance and coaching really helped.
I am passionate about being an Environmental Enforcement Officer, ensuring we keep London clean – free of litter and fly-tipping – it's our city, we should keep it looking beautiful and that is exactly what Kingdom Enforcement is committed to. I can't wait to commence my duties and responsibilities as an Environmental Enforcement Officer. I just want to do the training and then I can go on my mission.
I wish every job fair was like this with employers ready to interview because I've been offered the perfect role for me, and I'm delighted."
---
Bringing together our Work and Health employment programme delivery partners, Maximus, with the events being run by Redbridge Council's cost of living and Work Redbridge teams, is one of the ways we are looking to enhance support to local residents especially those most impacted by cost-of-living increases.
Across our boroughs we are looking at how we can integrate with the work of our local authority partners, especially around common issues such as cost-of-living increases.
Sarah Murray, Director of Local London said "Cost of living is a huge issue for our boroughs, especially for those who are out of work. This part of London was deeply impacted by the pandemic and statistics show that unemployment rates have continued to be higher here than in other parts of London.
Joining our programme with partners working to help those furthest from the job market in Redbridge back into work and supporting the council's cost of living campaign means we can help Redbridge residents to get important information and advice in one place.
Similar events are being planned in the near future, and I am very proud of our employment programme team reaching out to local authority partners so we can best help our member borough's residents."
---
The Redbridge Jobs Fair and Cost of Living Event took place on Thursday 19th January 2023, 10:00am to 1:00pm, The Loft, Exchange Ilford close to Ilford Job Centre Plus.
Future events are planned in Redbridge and across our other member boroughs to support them during these difficult times.
Local London manages three employment programmes on behalf of our member boroughs. Find out more about our employment programmes.
Find out more about our event partners Work Redbridge, Job Centre Plus, Maximus and cost of living help in Redbridge.