Celebrating Bexley's Brilliant SMEs
Our E-business programme has plenty to celebrate. The free programme has helped hundreds of SMEs to learn how to use digital tools to grow their businesses, resulting in £10 million increase in business turnover across our boroughs.
On Thursday 20 April 2023 our partners South East Enterprise, who run the programme in Greenwich and Bexley, hosted an event with Bexley Business and Employment (BBE) at the Bexley Civic Offices celebrating some of the programmes successes.
Benefitting from a collaborative approach taken in the borough, the programme has safeguarded over 200 SME jobs, created over 75 new jobs in SMEs and increased revenue by £2.4million.
SMEs helped through the programme poured into the room at 6pm, excited to share their stories and network. Many of the event's suppliers had been helped by the programme, including Graham Baker the evening's official photographer, who contacted the programme to enhance his online marketing expertise. Read Graham's story.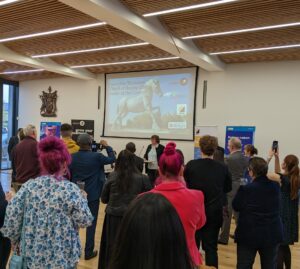 Local London Chairman and Leader of Bexley, Cllr Baroness Teresa O'Neill OBE opened the event, welcoming local business owners "I am proud to say that partnership work between South East Enterprise and the Council's BBE service is proving to be extremely successful in supporting our business community and 'Making Bexley Even Better'.  The programme is also working with our town centres to develop further positive engagement and address the digital divide that many businesses are facing."
Sarah Murray, Director of Local London, added "The South East Enterprise team are doing a fantastic job. SMEs play a significant role in the local economy in north east and south east London, to see that the E-business Programme is making such a positive difference to small business owners here is hugely important. This is another success story for devolved funding. The model works brilliantly!"
Tony Goldstein, Director of South East Enterprise, spoke warmly of the business owners he's met through the programme which matches you with an advisor who will help you develop a plan bespoke to your needs; from developing your website to TikTok marketing and everything in between.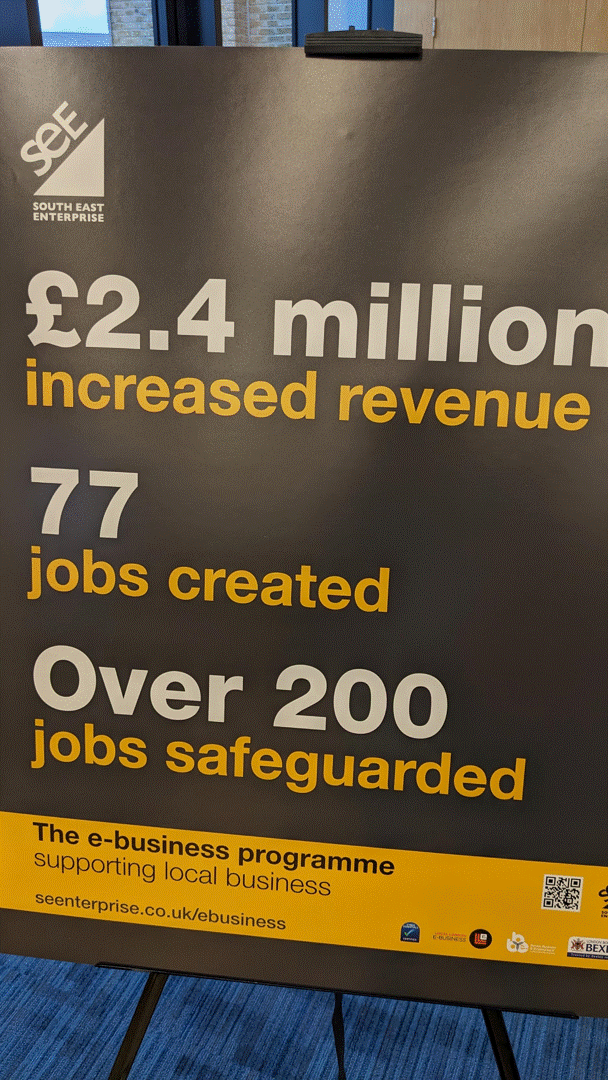 Tony was joined by Jennie Blake owner of Serenity Sessions, a Bexley-based business that provides wellbeing training to help organisations build resilient teams.
Jennie Blake addressed the room of SME owners: "I want to express my gratitude to the programme and especially my advisor. I can't even tell you the value Rebecca added, she became my mentor, cheerleader, proof-reader, and marketing guru. With her I was never alone. She helped me keep on track and grow my business. In fact, between year one and year two I doubled my turnover. She gave me the push I needed to get Serenity Sessions on Linkedin and I got one of my biggest contracts from there. Working a lot with charities who work with vulnerable people I am now able to reach more of them and help them to build their teams' resilience so they in turn can help more people. Huge, huge thank you. And yes, it is free. There is no catch. You should get on the programme if you are an SME owner."
Local businesses were entertained on the evening by students from Rose Bruford College in Sidcup, The Barley Ducks duo.
South East Enterprise will be running their first drop-in E Business Booster Session in May.  This is designed to generate ideas that will give businesses some quick wins. Find out more.
Find out more about the programme near you:
The Local London's E-business programme provides free face-to-face support and advice for small and medium-sized enterprises (SMEs) in who want to know how to make the most of digital software and marketing tools to help their businesses succeed. Across our boroughs the programme has supported over 800 SME businesses.
South East Enterprise support businesses in: Bexley and Greenwich. Find out more.
Enterprise Enfield support businesses in: Enfield, Redbridge and Waltham Forest. Find out more.
Newham College of Further Education support businesses in: Barking and Dagenham, Havering and Newham. Find out more.
More opportunities for businesses
Help us develop a local skills improvement plan to help close skills gaps and ensure local people have the skills to take up jobs: Local.london/lsip
Want to inspire young people to consider a wide range of careers? Find out about joining our careers programme as a volunteer and sharing your story with students: careershub.east@redbridge.gov.uk