It's my time! Enfield residents seize recruitment day opportunities.
People from Enfield turned up in great number motivated to find out about live vacancies and training opportunities to help them find their next career steps at the Enfield Recruitment Day in October 2023.
Held at Green Towers Community Centre, Edmonton, the Recruitment Day was hosted in partnership with the skills and employment team at Enfield Council, and Maximus our delivery partner for our employment programmes.
Over 350 residents came eager to talk to employers about current and future openings, and to learn about how to make their CVs stand out at the expert-led workshops.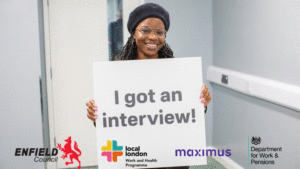 In addition to job opportunities, many local colleges came to showcase the range of courses on offer to help people further their employment prospects, and wider support was on offer from Enfield Council and The Samaritans to help people facing additional barriers to taking up work.
Employers and colleges were delighted with the response from local residents, remarking on the quality of candidates and the high number of people they would contact or hoping to see apply following the event. Among them were 43 Enfield residents who are on the Local London Work and Health Programme, 18 of whom got a call back from employers after the event.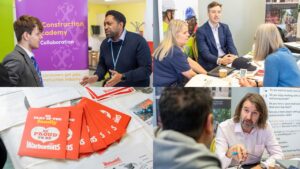 Nikkita Mulchandani, Managing Director at the Meridian Grand on Advent Way in Enfield summed up "Today has been fantastic. We are always looking to recruit people in the events sector and we have met an amazing range of candidates with skills from floristry to hospitality to events, so there's a lot in there and a lot of what we're looking for we've found at this Recruitment Fair in Enfield."
Cassandra, from Enfield who secured an interview on the day said "Now that my daughter has started school I said right, now it's my time to get back out there. I'd definitely recommend this to other people, because if you are like me and have lost your confidence coming here you can meet different people, do networking and sell yourself on the spot. Sometimes its nerve-wracking doing it over the phone, but [here] you can go to different recruiters and speak to different people. You can just be yourself."
Enfield Council's cabinet member for Culture, Public Spaces and Local Economy, Cllr Chinelo Anyanwu, said: "Enfield Council and its partners want to bring opportunities directly to you, to support local employment, training and skills development. Jobs mean security and better wellbeing which in turn helps to nurture stronger and happier local communities."
Sarah Murray, Director of London added "Helping people into work and achieving a brighter economic outlook is key for all of the boroughs in the Local London partnership. It has been a pleasure working with the team at Enfield; this is something we would love to replicate across our boroughs to help people find out more about exciting opportunities near to them."
Thank you to all the employers and training providers who helped make the day a massive success including: Amazon, Bright & Beautiful, Enfield Educators Connected, Enfield Careers, Enfield Housing, Enfield Samaritans, Enfield STEP, First Rung, Glenman, GP Garden Services, Jo Commercial Services, KLF Cleaning Services, M4 Recruitment, Maximus AEB, Maximus Work and Health Programme and Work and Health Programme Pioneer, McKenzie Arnold, Morgan Sindall/Hays, NHS Training Hub, North London Garages, Placing People Direct, Proud To Care, Quali Teach, Rooff, Teach Now, Tesco, TikTok, Tottenham Hotspurs Foundation, Warburtons, Wates.
Find out if you are eligible for support (all Local London boroughs)
Discover the Work and Health Programme (core) from Maximus.
Discover intensive Work and Health Programme Pioneer support from Maximus.
Employment support for people in Enfield
Find out about employment and cost of living support for people in Enfield
Related news
⇒Find out more about the recently launched Work and Health Pioneer support
⇒Find out about our Work and Health Programme