Work and Health Programme: Outperforming to get more people into work
Local London's Work and Health Programme is continuing to make a difference to people across our boroughs. The programme supports people who have disabilities or long-term health conditions, are long-term unemployed, or have specific barriers to finding sustainable employment.
The programme has had a fantastic start since it was extended in November 2022. With all stages of the programme out-performing expectations dramatically, from referrals to job starts and sustained employment.
This means that more people in our boroughs are getting the life-changing support they need, like Leon who said "I was really struggling with my current situation and needed to work. I'm now working Monday to Friday and starting to build a good life for myself".
These improvements are the results months of detailed reviews our team have been undertaking into specific areas of the Work and Health Programme in detail to ensure it is making a positive difference for residents.
We have looked at the way our partners manage caseloads, onboard people, and engage with employers. As a result of these no-stone-unturned reviews we have implemented changes which are being reflected in the programme's performance.​
Sarah Murray Director of Local London said "It is no accident that our numbers are soaring above expectations. We are looking in detail at the whole process from onboarding to in-work support to ensure we can help more of our boroughs' residents. The actions we are implementing at every stage mean more people who need this support are getting it."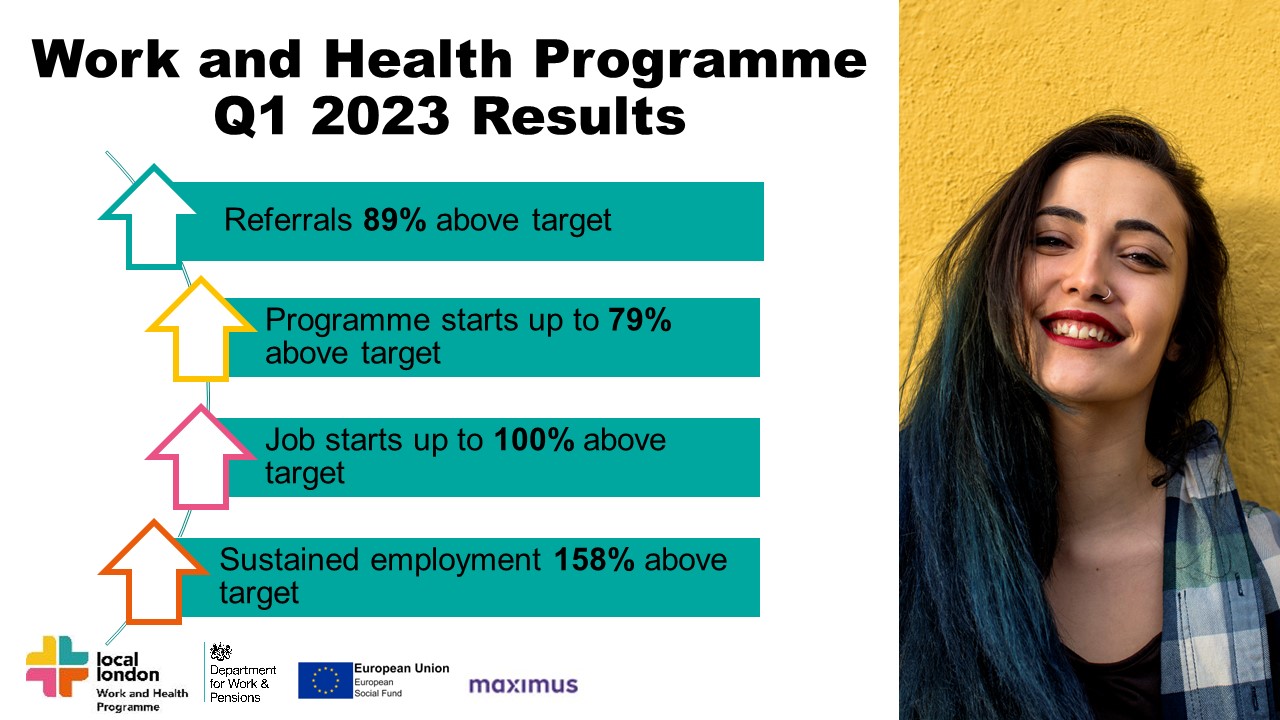 More and better targeted referrals
Over the past few months, our team have been visiting job centres and diligently working on the ground with staff from our delivery partner, Maximus, to advise and facilitate better working relationships and awareness of the programme in job centres across all our boroughs. Month-on-month, this has led to a greater number of eligible residents being referred and fewer having to be turned away to other support.
Demand has been much higher than anticipated. Having worked with partners to raise awareness of the programme, the number of referrals exceeded expectations by 82% in the first quarter of 2023.
​As well as seeing a higher number of referrals, we are seeing more people who meet the eligibility requirements referred to the programme. In March 2023 79% of residents referred were able to start on the programme, reflecting the important work being done in job centres to raise the profile of programmes offered and ensuring residents are referred to the programme that best suits their needs.​
Residents can be referred onto the programme via our member boroughs' job brokerages services as well as job centres. With both referral routes working better the number of people who are now in work thanks to the programme is 75% higher than expected​. We are continuing engage with our boroughs' services to ensure referrals via boroughs' teams are optimised too.
Working with our delivery partners the programme has been able to provide more residents with the support they need to get into work, like Yousuf who told us "If it wasn't for Csilla, supporting me with my CV I wouldn't have bothered carrying out job searches and would still be in the same position as I started. I have now gained my confidence back. Thank you Csilla."
More job starts and sustained employment
We are continuing to work with Maximus to help those on the programme find roles, and to encourage more collaborative working across boroughs. We supported and facilitated a jobs fair where job seekers could find out about local opportunities, interview and which resulted in job offers on the day and further strengthening relationships between partners and local employers. We are planning more across our boroughs.
Job starts have increased month on month, peaking with 100% more than anticipated in March 2023. With the referral process improved we expect more participants join the programme and or this trend to continue.
We are focussing now on driving sustained employment, and are working jointly with the Integration Hub to ensure residents continue to receive support they need once they have moved into employment​. In the first three months of 2023, we were 158% above our baseline.
---
The Local London Work and Health Programme provides up to 21 months support for people who have long-term health conditions and/or disabilities or have been unemployed for 24 months or more.
Funded by The Department of Work and Pensions (DWP) and European Social Fund (ESF), we work with Maximus and manage the programme on behalf of our boroughs – Barking and Dagenham, Bexley, Bromley, Enfield, Greenwich, Havering, Newham, Redbridge and Waltham Forest – to help more people get into and retain good jobs.