No Wrong Door Report recommends better integration of employment and skills services
Against a backdrop of 1.25 million economically inactive people in London and 38% of universal credit claimants in employment, better coordinated support to enable Londoners to access "good work" is most definitely a priority for the capital.
No Wrong Door: How an integrated employment and skills system can support Londoners
New research published this week by City Hall and The Young Foundation demonstrates that where support services and providers are integrated, Londoners benefit through better and more sustainable work outcomes.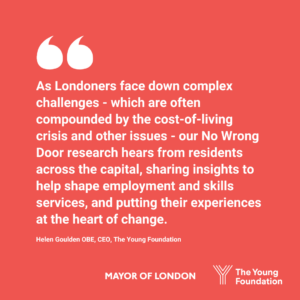 While skills and employment services are helping more Londoners get the support they need to move into good work, but the system can be difficult to navigate. The 'No Wrong Door: How an integrated employment and skills system can support Londoners' report explores the experiences of Londoners furthest from the labour market who are trying to access the support they need to move into good work.
The report shows that joining up London's skills and employment systems is vital to delivering a more streamlined and accessible offer for Londoners. Through the No Wrong Door programme, London's employment and skills services are working together to tackle these challenges head-on and build a more sustainable and joined-up system that works for Londoners.
⇒ Read the No Wrong Door Report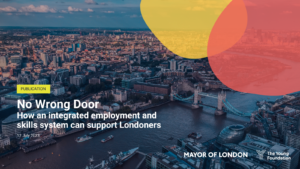 Sarah Murray, Director of Local London said "We welcome the publication of this excellent report, which adds further weight to the business case for Integration Hubs and why they are so important to driving improvement in the employment and skills landscape.
While more need to be done to fix issues, our Integration Hub team have spent the last nine months co-creating with our boroughs and residents as well as paying close attention to the research recommendations as identified by the Young Foundation. Through this we are already positively transforming how we are delivering our employment and skills programmes across our nine boroughs."
How we are joining up skills and employment across our sub-region
In striving to drive improvements across the skills and employment system in the east of the capital north and south of the river, and paying close attention to each of the seven key thematic areas as indexed in the report, Local London's Integration Hub (strand one of No Wrong Door) have:
Established our Ability Not Disability workshops – a series of workshops targeting employers to provide support, share knowledge and start an ongoing conversation on the benefits of supporting disabled Londoners into good work.
Set up a community of practice for seven of our boroughs who are keen to learn from other boroughs and support other boroughs to improve SEND provision and outcomes across the region.
Delivered a Frontline Adviser Listening Exercise that has better enabled us to improve outcomes for our residents through pinpointing gaps in our services and adviser capacity and knowledge base.
Begun a series of Adviser/Practitioner CPD to upskill and ensure the currency of our adviser workforce.
Launched a communications and broadcasts programme to frontline colleagues across all our nine boroughs that ensures timely and relevant information is delivered to those supporting our residents and improves referral processes and outcomes.
Provided support to grassroots community organisations and groups, so that they may better access funding and be able to continue the important work they do with our residents.
Completed the first iteration of our Work Connections website which will eventually be a go-to place for residents, employers and practitioners.
Worked closely with Careers Hub East and our Local Skills Improvement Plan (LSIP) partners to look at ways in which we can bring learning from career education, information, advice and guidance (CIAG) models and resources that support our young people in schools to adults navigating the labour market, employment and skills later in life.
Our thanks to Young Foundation publishing this report, and a special thanks to our colleagues at the GLA, the other Hub's and sub-regional partnerships for sharing learning and the Mayor of London and UKSPF for funding our Integration Hub.
⇒ Read more news about our No Wrong Door work from the Integration Hub team.