Redbridge Jobs and Apprenticeships Fair: "Busier than Clapham Junction!"
Over 800 people came to the Redbridge Jobs and Apprenticeships Fair on 25 May 2023 organised by Redbridge Council's employment brokerage, Work Redbridge in partnership with Job Centre Plus, Maximus and Local London.
Described by one happy resident as "busier than Clapham Junction" the hall was buzzing from 10am with people keen to speak with the 40 employers and training providers about roles, apprenticeships and training.
The sound of voices and conversations was audible from the High Street, it was clear that the hall was bustling with people looking for work and training opportunities.
Redbridge residents were able to find out about roles and apprenticeships with Amazon, TfL, Essex and Suffolk Water, NELFT (North East London NHS Foundation Trust) and Vision, Culture and Leisure, Redbridge Council and many more. In addition, people at the event were able to find out about foster caring and training courses on everything from customer services to ESOL (English for Speakers of Other Languages), maths, digital and driving skills from providers including Redbridge Institute, DVLA, and Maximus's Adult Education team.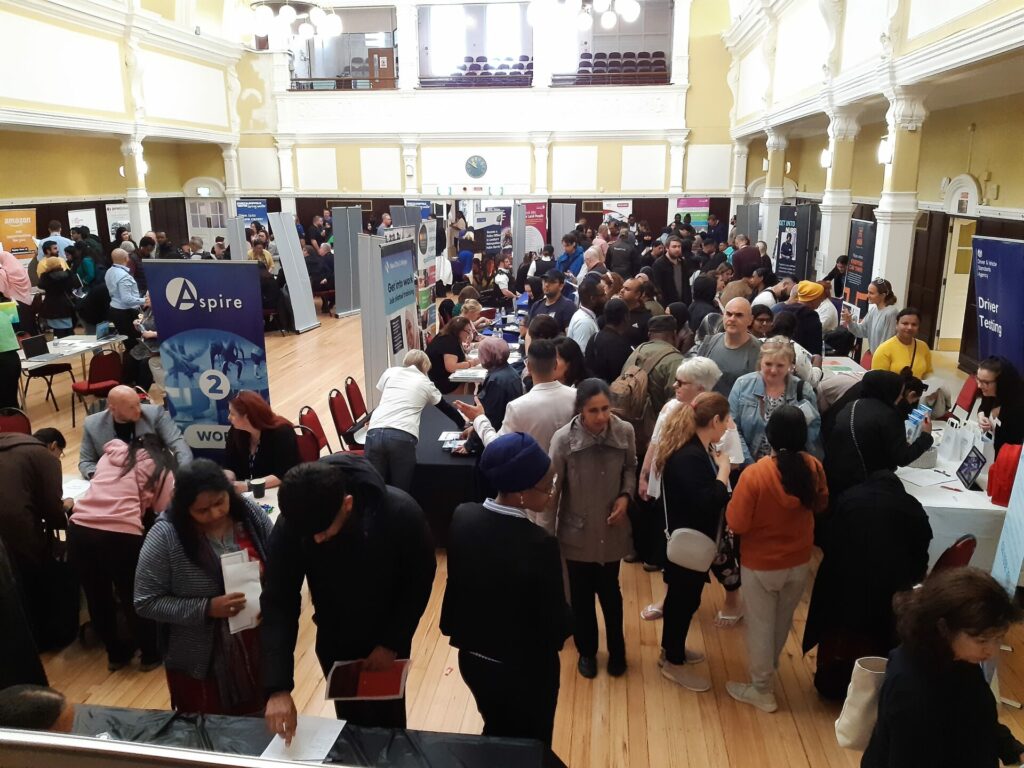 Events like this are underrated
"Events like this are underrated" Tamara, resident from Redbridge said. "I know a lot of jobs are online now, but I really liked meeting employers face to face and talking with them. For me, maybe I'm old fashioned, but I prefer this so I can ask about the roles and what it entails and to get to know the organisations. Thank you, I've found this really helpful and I'm going to apply online now."
Andy, from Redbridge, got new leads too, he said "I'm a cat 2 lorry driver and I've had a good chat with the team from Redbridge about becoming a minibus driver. Bit different but something to think about for sure."
Employers and training providers at the event were delighted with the turnout and level of interest.
Ian from Essex and Suffolk Water said "When we came with a team of eight I thought maybe we had too many people but we've all been busy all day. We've handed out all of our job descriptions and leaflets! It's been a great event speaking to people and promoting our brand. We have a lot of roles that can be home/office based or in the field which we've been talking to people about. Look at us, we have a great team and I hope that some of the people we have met today will apply online and join us."
Rona Nicoll, Engagement Advisor from Maximus echoed this "We had queues and were swamped. I'm so glad there were two of us! We've got around 60 people signed up to start some of our courses. The ESOL course has had the most interest but digital was popular too."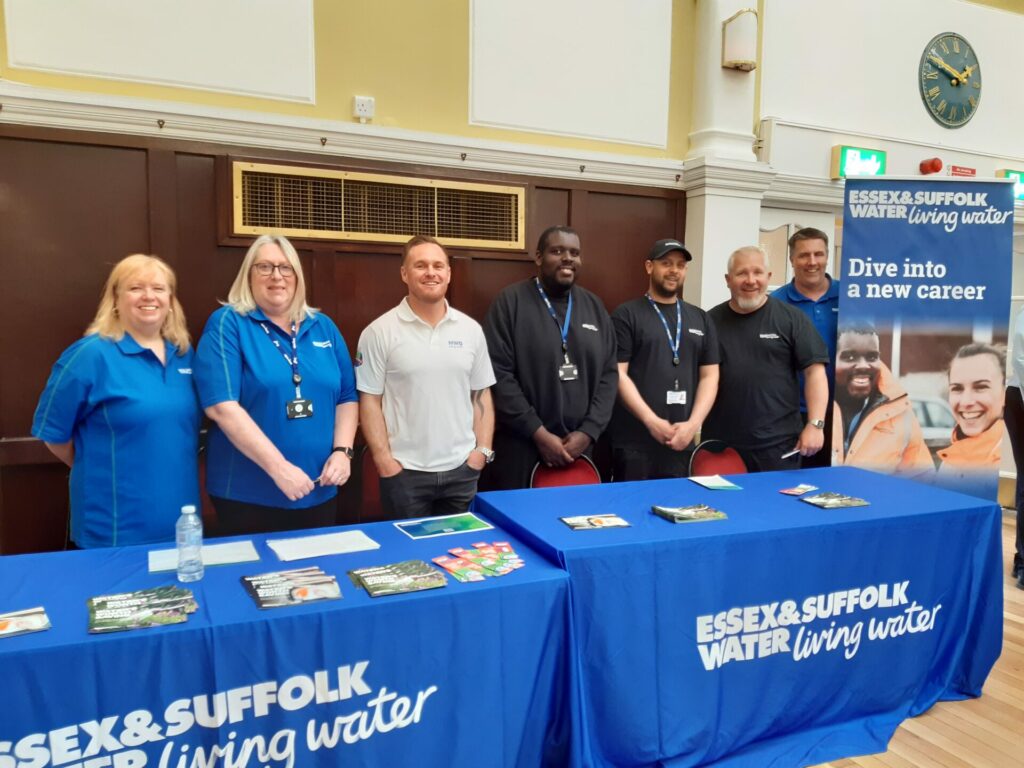 Ian (second from right) with the team from Essex and Suffolk Water were busy all day.
Helping people towards their next role
Over the course of the day, Work Redbridge, the council's jobs brokerage service, spoke to more than 400 people and 57 people booked follow up appointments with them to find out more about the many ways they can provide support to people looking for work.
Around 300 people spoke to the Maximus team. More than 72 people self-referred onto the Work and Health Programme and 58 people signed up for Adult Education courses run by Maximus for employed and unemployed people looking to develop their skills.
Job Centre Plus Disability employment advisers helped around 150 people, providing guidance and support to those with a health condition and or disability.
The National Careers Service were delighted to speak with around 20 people who were already engaged with their service and signed up a further 22 people at different stages in their careers who were ready to find out more about learning, training and work opportunities.
Sarah Murray, Director of Local London, said "The Work and Health Programme, delivered by Maximus in Local London, complements what others – like Job Centre Plus and Work Redbridge – are doing in the boroughs already. We're delighted to be working closely with partners in Redbridge to make sure that we are signposting to each other and residents are getting the right support for them whatever their situation."
---
The Local London Work and Health Programme provides up to 21 months support for people who have long-term health conditions and/or disabilities or have been unemployed for 24 months or more.
Funded by The Department of Work and Pensions (DWP) and European Social Fund (ESF), we work with Maximus and manage the programme on behalf of our boroughs – Barking and Dagenham, Bexley, Bromley, Enfield, Greenwich, Havering, Newham, Redbridge and Waltham Forest – to help more people get into and retain good jobs.
Residents names have been changed to protect identities.